This is your chance to relax, pamper yourself and have fun with other CZTs. You'll delight in the workshop, learn new skills for organizing your tangles, have the opportunity to share what works (and doesn't) for growing your Zentangle business and of course, time to untangle with tangles. Enjoy a glass of wine, sit by the pool, hang out in our hospitality suite and just have fun with a wonderful group of knowledgeable CZTs. Browse through the delights in your goodie bag. If your last "treat" was the certification class, you owe it to yourself to re-treat yourself again.

Co-Leaders Bette Abdu CTZ #1 & 4 and Bette Beauregard CTZ #4
Planned Activities
A Compendium of Tangled Tails, Bound to Please
Half Day Workshop presented by Beckah Krahula CZT#6,
Author of One Zentangle a Day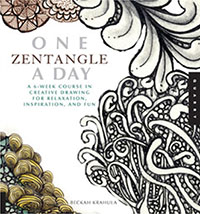 What has Tangles, techniques, future class ideas, new products to try, and memories all created with the CZT in mind? The sketchbook we will be creating at The 3rd Annual CZT Retreat. This is a new class designed to create a beautiful sketchbook that participants can use and fill throughout the retreat. This 3.5"x3.5" fat sketchbook includes techniques using mixed media and a unique pen that will allow us to tangle with paint, ink, glue, dye, wax, and so much more. Some of the products we will work with are mid toned papers, stencils, watercolor-ground, acrylic paint, gouache, ink, leafing, and pan pastel. We will bind the books together at the end of class and you are allowed to reprint and teach with the binding instructions. There is plenty of room to collect new tangle patterns, notes from speakers and demos, as well as ideas and info from the vending booths. This book is a beautiful memoir of the retreat, but more importantly, a resource for the rest of your life.
Beckah Krahula is an artist, writer, consultant, product designer, and industry expert. She began her career with the first graphic rubber stamp company in the U.S., and has worked as a full-time mixed media artist ever since. She has worked for publishers, toy designers, and product manufacturers. In 2001, she began filming the Carol Duvall Show, writing the scripts, creating the projects, step outs, and online instructions. After a long career of touring thirty to forty seven weeks a year, in 2001, she began teaching online. In February of 2011 she became a certified Zentangle teacher. She lives in Houston, TX.
Organize your Tangle Patterns with Technology
Taught by Suzanne Wilka CZT#4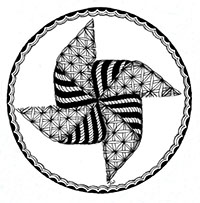 Do you find yourself spending more time searching for that elusive pattern you need now, rather than actually creating your work of art? Would you like to have your patterns available to you anywhere?
The Organize your Tangle Patterns presentation will demonstrate ways to easily and efficiently collect, digitally store, and organize not only all your tangle patterns but any Zentangle information you want to save. The presentation will provide an overview for using Snagit and Evernote software applications to organize your Zentangle world. Both applications are cross platform and will work on Windows, Mac, as well as Apple and Android mobile systems.
Suzanne Wilka, CZT #4 loves Zentangle. As she explains: "Late in life much to my surprise I discovered an artist living inside me when I came upon a decorated gourd. Gourd art became my passion - especially wood burning on them. Unfortunately, I had to stop working with gourds. I thought I'd lost the artist as well as the gourds but then I found Zentangle. It's my new found passion and creative outlet. I'm still exploring and learning but most of all I'm having fun." Lucky for us, Suzanne will share her expertise in organizing your tangles with technology. Suzanne lives and teaches in the San Diego area. She has a wonderful blog: http://tinkeredart.blogspot.com/
Creative Art Bar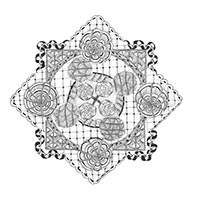 A Creative Art bar will be open for your enjoyment day and night. If you've had a thirst for trying some of the techniques you've been reading about such as working with stencils, creating background papers and others, you'll have fun at the bar. You can explore a variety of techniques for use with Zentangle projects such as scratch arts, using stencils, Tombow markers, Versals (ornate capital letters), glue resists, background papers, rubber stamps. These supplies will be available to explore and create your own make and takes.
Tips and Techniques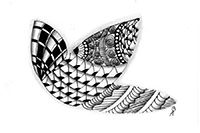 Each of us has unique ways to explain and demonstrate Zentangle skills. There will be time to exchange ideas with other members. Want to know how to draw that elusive tangle? Want shading advice? Share your new tangle? Start your list of what you'd like to see and what you'd like to share with the group.
Tangle, Tangle, Tangle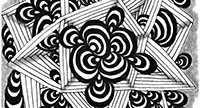 This is time for you to be the student and enjoy tangling for yourself whether it's a project you're working on or just time to try out those new tangles that keep being released! There will be lots of opportunities and places to work on your own project or work on the collaborative project if you'd like.
Retreat Fee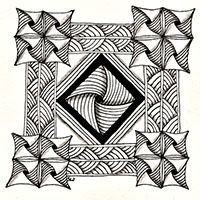 $375.00 per person
$50 discount for Homewood Suite Guests

To keep costs low, we are only accepting checks. Please email lvzentangle@gmail.com to request registration form.
Cancellation Policy
Cancellation must be in writing by e-mail to lvzentangle@gmail.com. No other forms of cancellation are acceptable. The dates and refund amount are as follows:
August 21: full refund less $25.00 administration fee.
September 4: 50% refund – unless a replacement person attends.
Administrative fee of $50.00 will apply for cancellation.
September 18: No refund – unless a replacement person attends.
Administrative fee of $75.00 will apply.
Lodging
Homewood Suites by Hilton
10450 S. Eastern Avenue
Henderson, NV 89052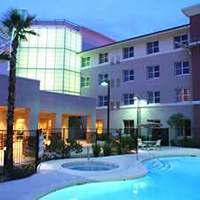 Our headquarters for the retreat are located at the Homewood Suites located in Southern Las Vegas. A suite based hotel that includes beautifully appointed rooms with fully equipped kitchens, it has a warm and friendly atmosphere that will enhance your retreat experience. Among Homewood Suites many amenities are: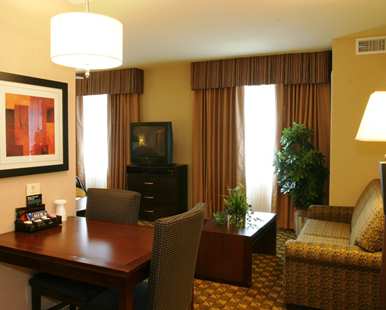 Beautiful Suites
Free Parking
Every suite has a living area
Free Airport Shuttle from McCarran Airport
Fully equipped kitchen
Complimentary hot full breakfast
Outdoor heated Pool and Whirpool
Complimentary Wi-Fi
Exercise Facility
24 hour business center
Non-Smoking Hotel
Grocery shopping service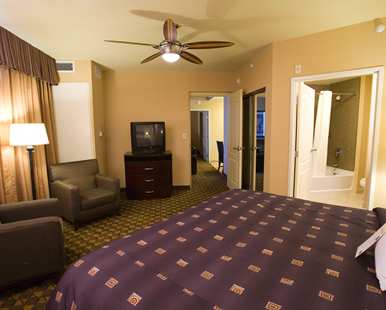 Our location has several nearby restaurants (Thai, Mexican, Italian, Indian and Family style) and shopping (2 upscale shopping centers as well as Whole Foods and Trader Joes). We will have menus and maps available for you. It's only 15 minutes from the famous Welcome to Fabulous Las Vegas sign too.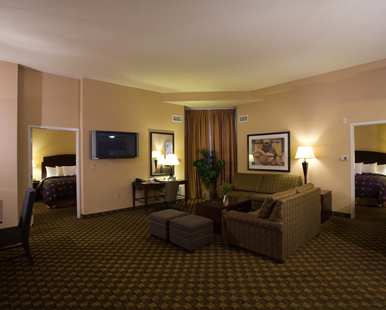 You will want to stop by our hospitality suite to mingle with other CZTs, enjoy snacks and beverages and just sit, relax and take in the ambience.
To guarantee our group rate you must contact the hotel directly and let them know you are with the Viva Zentangle group. Our contact at the hotel is Baldwin and you can contact him by phone: 702-450-1045 ext. 570 or by email: Baldwin.jeong@hilton.com.
The room rates are:
$109 for a King Suite with separate living area and full kitchen
$129 for 1 Bedroom Suite

separate living area, full kitchen, 2 Queen Beds in one room

$139 Deluxe Queen Suite

spacious separate living area, full kitchen, 2 Queen Bed in a spacious room

Please note that Vegas hotels add 12% tax
If you're looking for a roommate, we can provide a list of others seeking roommates. Contact us at lvzentangle@gmail.com.
View Larger Map
Arrival & Departure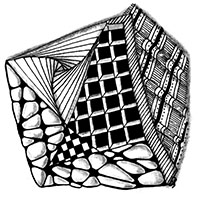 Plan to arrive Thursday afternoon, October 3rd to check into your suite. Hotel check in begins at 3:00pm (or earlier if your room is ready). You can settle in, relax and enjoy complimentary cocktails and a light dinner provided by the hotel. Our meeting room and the hospitality suite will be available by 3:00pm on Thursday.
On Sunday the formal agenda for the retreat will conclude at noon, which is also checkout time for the hotel. However all the resources in the meeting room are available until 5:00pm. You may wish to continue working on projects, further explore the Creative Art Bar, share tangles with the group or to just keep tangling. The Hospitality suite will be available until 9:00pm on Sunday evening.
If you wish to extend your stay until Monday our special hotel room rates apply to Sunday night too. You may want to go for an evening swim or even cruise the Strip. It's beautiful at night! If you want to stay over until Monday or later, there are lots of things to do and see in the Las Vegas area.
What to bring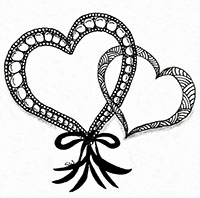 Dress is comfortable attire. The average temperatures in October are 82 for the daytimes and 59 for the nights.
Your favorite pens, Zentangles or ZIAs that you would like to share, projects you want to work on and anything Zentangle related that you want! All materials for Beckah's workshop will be provided.
If you'd like to display some of your work, please contact us so we can plan enough space for the exhibit area.
Vendors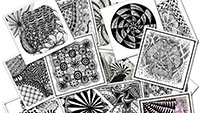 If want to sell Zentangle related items, please reserve a vendor space. A limited number of vendor tables (18" wide x 6' long) are available for $15 each. Please contact us at lvzentangle@gmail.com for table space and availability.
Registration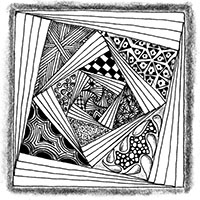 We are very excited about this retreat and know it will be a highlight for you! Please join us to share in this unique experience.
To register, please request the registration form by sending an e-mail to lvzentangle@gmail.com